In a post-COVID workplace, "hands-free" is the new buzz world. It's also the new hygiene standard. At times, it may seem the pandemic has turned everyone into Adrian Monk. But you needn't be an OCD-suffering detective to solve the mystery of the old hygiene standard; it's dead—murdered by Delta and Omicron. However, its demise makes way for a new standard, one built with hands-free building tech. 
Touchless interfaces, voice command, facial recognition systems are uber-popular among both employees and managers. Some hands-free devices are smart home gadgets carried to the office by new hybrid workers looking to introduce a little domestic convenience. But other employees simply want safer, more hygienic work and communal spaces.
Tech companies are speeding up their response to the touchless standard by leveraging existing tech: smartphones. Every worker already carries a small, powerful computer connected to the internet in their pocket, so why not start there. The shortcut is producing a variety of apps that give workers and managers hands-free control of lighting, elevator access and after-hours air con bookings. The touchless workplace is a safe bet for property owners looking to invest in tech that boosts their property values and occupancy retention.  
Access Via Facial Recognition
Facial recognition is a growing tech in facilities access because it provides better safety and a keyless, touchless entry point. Cameras with specialised facial recognition software scan a person's face to identify them before granting entry. Users simply look at the scanner, are identified, and the system unlocks the doors. While hardly a viable solution for high traffic areas, facial recognition systems do ensure touchless entry points for visitors and better safety for building occupants.
Smart Elevator Apps
Today, "calling" the elevator is no longer a metaphor. Some major lift manufacturers like Otis and Schindler now have apps that let you summon an elevator with your smartphone. Users can use the apps themselves to ask for life service or they can scan a QR code to let the elevator know what floor they're on. Smart elevator apps are time sizers too. Riders can request the lift as they approach, select their destination, then arrive just as the elevator does. No buttons to press or physical contact to make means a more sanitary ride.
Touchless Audio/Visual Setups
The conference room is full of commonly touched surfaces swimming with bacteria. However, voice activated AV equipment and video launching apps are keeping the presentation room touchless. Companies like Crestron are making touchless AV wireless, letting you manage all your AV equipment and room scheduling one a single app on your smartphone. Imagine having an app to control your presentation equipment. Being able to set custom specifications, including your lighting preferences, blind levels, and audio volume all with one touch of your own smartphone.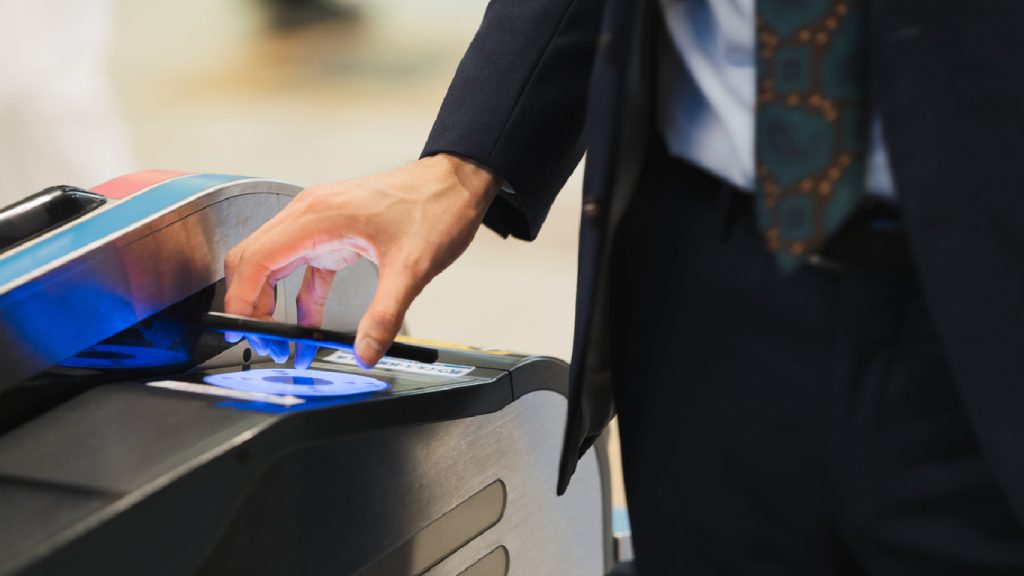 Touchless Reception
Hands-free entry tech like automatic sliding and swinging doors are hardly new, but new "touchless" tech for reception are evolving to limit the time visitors are spending in reception. Reducing the number of people in reception reduces the risk of virus transmission.   
Rather than performing traditional check-ins, visitors can send instant text messages, voice calls and emails to authenticate their credentials and notify hosts. Once inside, other touchless access points can be granted by reading smartphone data via Wi-Fi. Elevators may be sent, doors opened automatically, areas of the building opened all without the visitors needing to touch handles or screens. Such automated access systems can also perform other duties like contact tracing or administering health questionnaires.
Voice-Activated Lighting
Today's modern commercial lighting solutions offer hands-free tech features like voice command and app operation to expand control over workspace illumination. Some lighting tech has replaced the traditional light switch with a motion sensor that activates with the wave of a user's hand. Others control lighting with voice commands powered by popular voice assistants like Alexa, Siri or Google. 
Other hands-free light switches have Wi-Fi so workers can turn off lights left on or turn them on before entering the building. Smartphone control also means the ability to schedule lighting at regular intervals or for specific events. Voice activation, motion sensor and smart app lighting controls give workers more choices while eliminating the need for physical contact.